For a festive & flavorful celebration!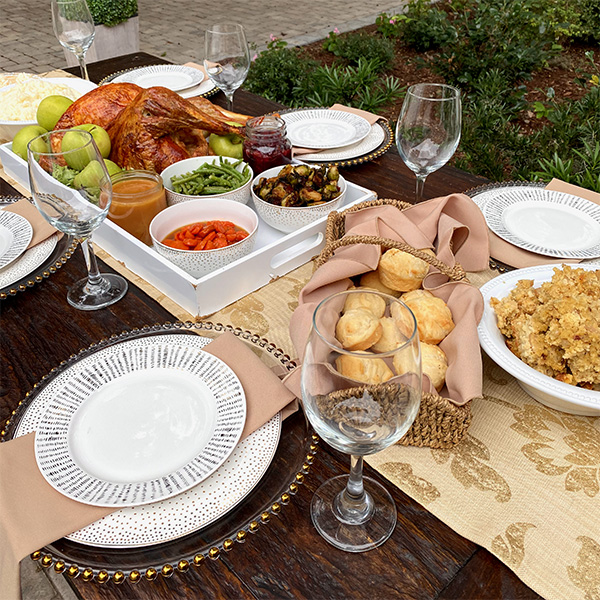 Grace your table with Southern comfort
Hewitt Oaks Thanksgiving Feast is a sophisticated take on Southern classics, prepared with love by our award-winning culinary team. Each Thanksgiving Dinner includes a full-size Herb Roasted Turkey with scrumptious side dishes and all the fixin's to serve four or more people.
Dinner add-ons and extra desserts allow you to customize your feast and delight everyone at the table! We're taking all the work off your plate, so you can relax and enjoy your time together!
Voted Best Chef in Bluffton
Executive Chef Christopher Hewitt graduated from the Culinary Institute of America at Hyde Park, NY and worked with Bobby Flay for 12 years. Christopher has claimed an Iron Chef Victory, prepared dinner for Julia Child, and earned many other awards and accolades, including Bluffton Today's Best Chef in Bluffton for 3 years in a row. He's an expert at taking everyday favorites and turning them into an extraordinary culinary experience!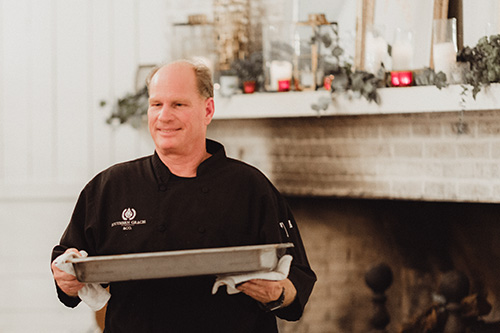 Hewitt Oaks Thanksgiving Menu
Celebrate big with the ones you love, but make it a little easier on yourself! Our Thanksgiving Feast comes in oven-safe containers, ready to heat and serve, so you can spend more quality time with your friends & family.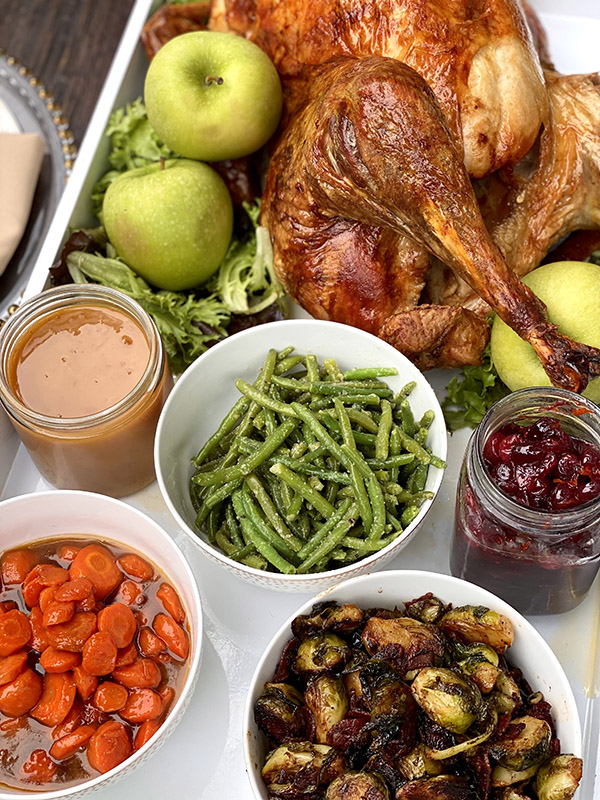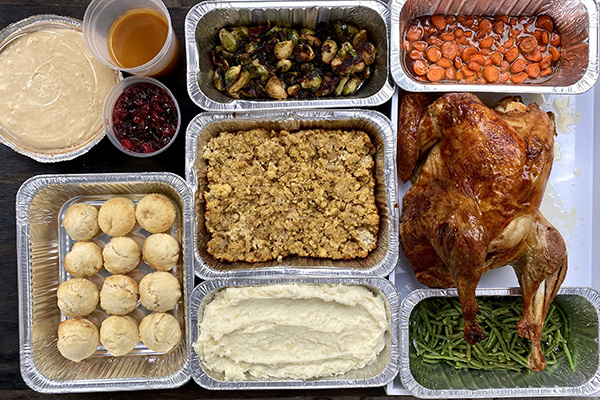 16-lb Herb Roasted Turkey
Roasted Apple & Cornbread Dressing
Cranberry Citrus Relish (16 oz.)
Whipped Potatoes
Riesling Gravy (20 oz.)
Balsamic Roasted Brussels Sprouts
Sautéed Green Beans
House-made Yeast Rolls (1 doz.)
8-inch Whipped Pumpkin Cheesecake
Planning to have a larger group?
Add a 3-lb. Herb Roasted Beef Tenderloin with horseradish cream to your meal or choose from our other
tasty add-ons
and
extra desserts
!
Only available with purchase of a Thanksgiving Meal
Herb Roasted Beef Tenderloin
Smoked Gouda Mac & Cheese
Smoked Bacon Creamed Corn
Additional Mashed Potatoes
Mixed Greens, Dried Cranberries, Roasted Apples, Toasted Pecans, Cinnamon Goat Cheese & Apple Cider Vinaigrette
Questions? Check out our FAQs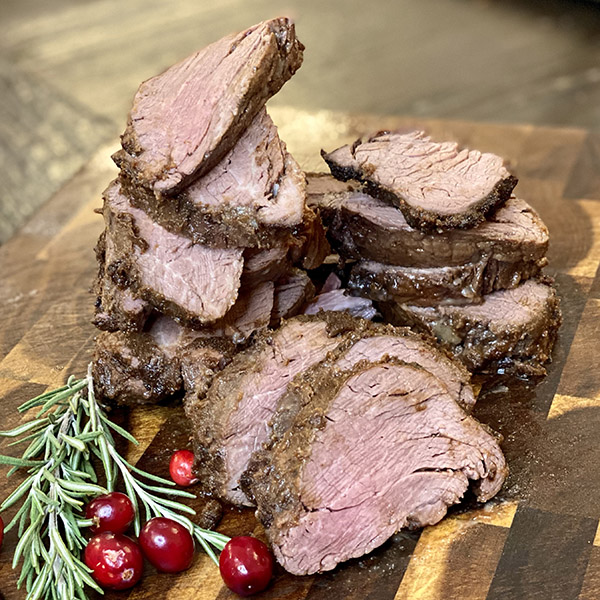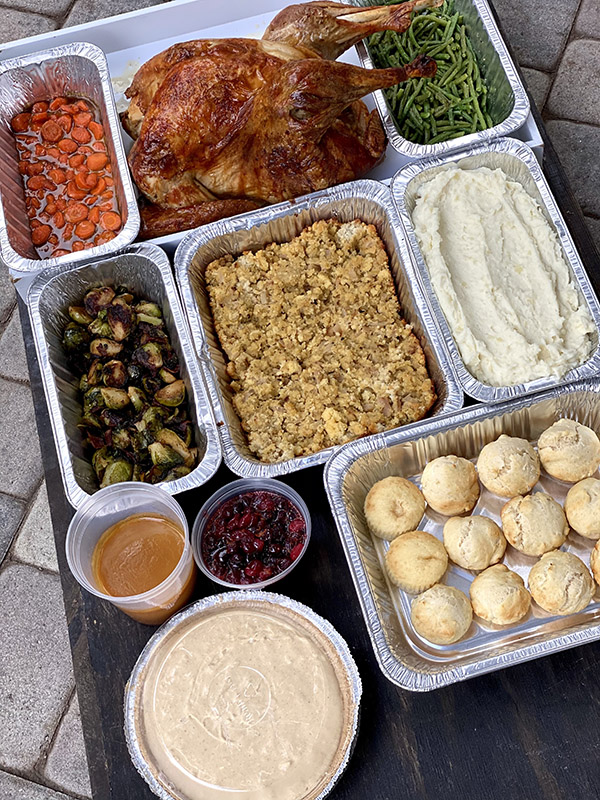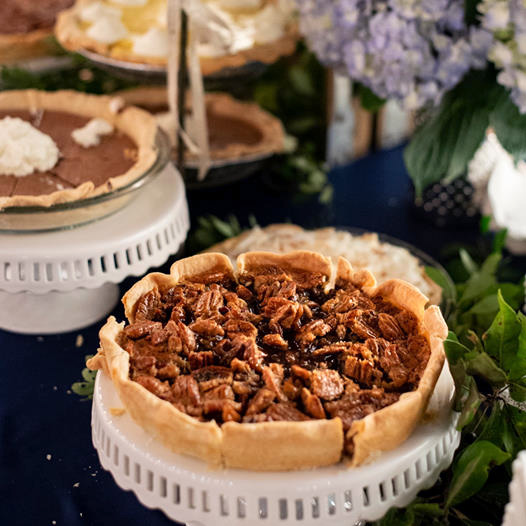 Only available with purchase of a Thanksgiving Meal
Consuming raw or undercooked meats, poultry, seafood, shellfish, or eggs may increase your risk of foodborne illness.

"Excellent experience. BEST Thanksgiving meal I have had – better and easier than making it at home. Everything was perfectly prepared and presented. Directions for heat-up/final prep was easy to follow…and easy to do! Lots of variety! Everyone LOVED it. The pickup was fast, easy and very pleasant….drive through pick up and the boys put it carefully in the car. My "new gig" for Thanksgiving (and any holiday they offer)!"
— Amy F.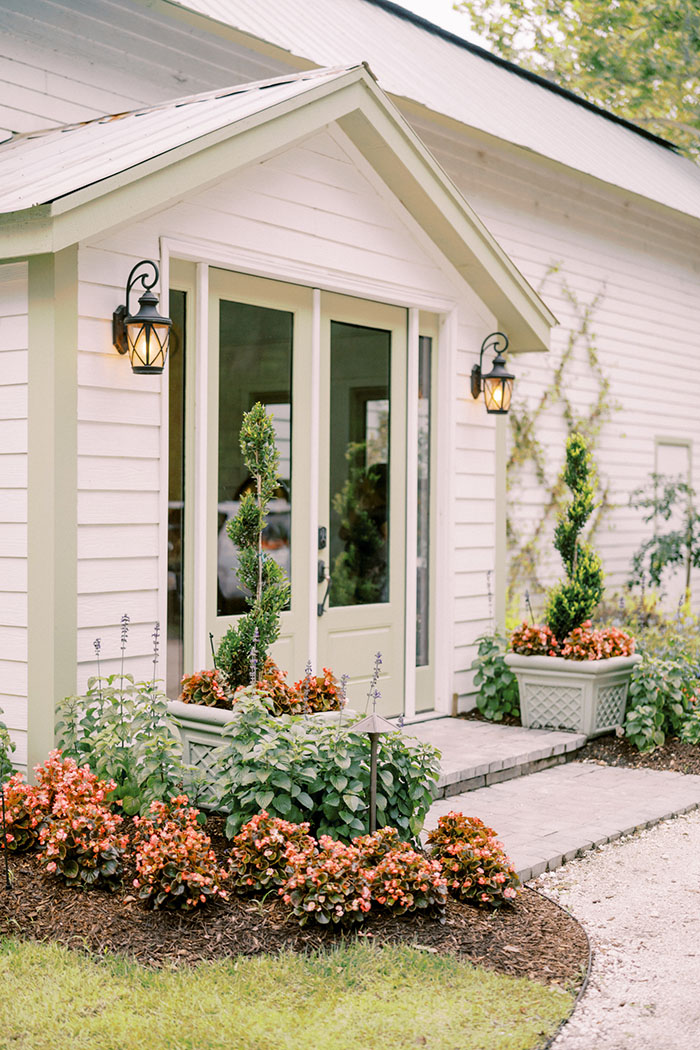 Contact-free pickup is Wednesday, November 22 between 1-3pm or 3-5pm at Hewitt Oaks:
205 Stillwell Rd.
Bluffton, SC 29910
Once you arrive, the signs will direct you to pull up in front of the main building, Gracie Hall, and we will bring your order out.
Ready to sit back and let us do the cooking?

"Dinner was amazing. I was able to spend time with my family while the dinner was heating served it and it was just like I had cooked it myself. All of our favorites. We've had other meals delivered by Southern Graces and every single meal has been amazing this is the greatest alternative to going into a restaurant in fact it's better. We will continue using the service cannot wait for Christmas dinner"
— Maria M.

What if I plan to host more than 6 people?
Each Thanksgiving Feast serves 4-6 people. If you have a group of hearty eaters or plan to have more guests, you can order multiple meals, each with a full-sized turkey. Or you can select extra items from our add-on menu to make sure you have enough food and dessert for everyone (and some leftovers too!).
Do you offer meals for fewer people?
No, since each Thanksgiving Feast includes a full-sized turkey, we include enough of each side dish to serve 4+ people. With fewer guests, you'll have some delicious leftovers to enjoy later!
Where do I pickup my order?
Thanksgiving meal pickup is Wednesday, November 22 at Hewitt Oaks event venue:
205 Stillwell Rd.
Bluffton, SC 29910
At checkout, you will be able to choose a pickup window of 1-3pm or 3-5pm.
Will the food be hot when I get it?
Your Thanksgiving dinner will be properly chilled down after being prepared, and we provide instructions for reheating the meal. Items that require reheating will come in oven-safe containers.
What if I change my plans and want to cancel my order?
Thanksgiving orders are non-refundable. However, you are welcome to transfer your order to someone else! Please contact us at 843.757.4600 during standard business hours if you would like to do so.

"We decided to give ourselves a gift and not spend the whole day cooking on Thanksgiving. I shopped around online and came across Southern Graces Menu for Thanksgiving dinner. It looked much more interesting than other options, so I took a chance and ordered. First, the location of the pickup was beautiful and worth the drive (about 30 minutes for us). They had everything ready when we arrived and brought the food to our car. Everything was packed neatly with clear instructions on how to reheat and serve the next day. The food was delicious and we had more than enough to share with our neighbors."
— Melissa M.