All-Inclusive Petite Weddings
Intimate weddings in the heart of the Lowcountry near Beaufort, Hilton Head, Savannah and Charleston
Weddings at Hewitt Oaks are full of Southern charm and effortless grace, surrounded by sweeping Lowcountry oaks and peaceful countryside views. Our all-inclusive Petite Wedding Packages are specially designed for micro weddings with up to 75 guests. We'll take care of every detail so you can relax and enjoy every moment of your special day!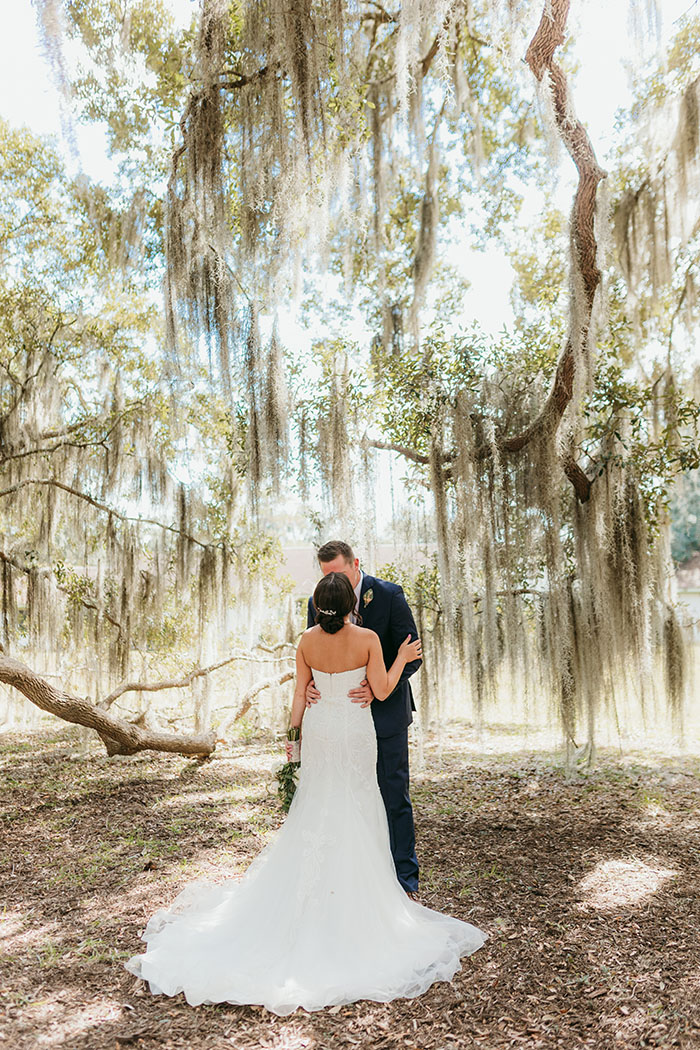 You bring the love story...we'll create your dream wedding
You want to be blown away by the beauty, meaning, and joy of your wedding. You want to remember this as one of the best days of your life. You want to be free to take it all in. What you don't want? To be stressed and distracted during your wedding and the precious days leading up to it. That's where we come in!
The experienced team at Hewitt Oaks has been designing weddings and special events for over 20 years. We've created our Petite Wedding Packages to give you a carefree planning experience with select choices to personalize your celebration. We want every Hewitt Oaks bride to be able to breathe and enjoy a seamless wedding experience from the first planning phone call to the wedding day send-off.
Experience the beauty and grandeur of Hewitt Oaks in an intimate setting
Petite Weddings at Hewitt Oaks include all the essentials for an elegant and refined wedding with a selection of our most popular decor and culinary options. Petite Weddings can be scheduled up to one year in advance for Monday-Thursday, or six months in advance for select Fridays and Saturdays in our low season (January, February, July or August). Petite Weddings are not available on Fridays or Saturdays during other months of the year. Please see our FAQs for the details.
All packages include the use of the ceremony and reception sites for the scheduled time period with access to the Huling Lounge for getting ready.
Wedding coordination, catering, and design are provided by our experienced team. Because these services are provided in-house, you get a better value and so much less stress! You can make all the fun decisions about colors and flavors without the bother of tedious details and logistics. A Petite Wedding includes:
Professional wedding coordination
Catering & beverage service
Cake
Florals
Furniture, linens, china, utensils, & glassware
Design & styling
Our Á La Carte Menu allows you to make the planning process even more streamlined with select add-on services. Additions or substitutions outside of the listed options are not included with our Petite Wedding Packages, but we'd be glad to recommend one of our other packages!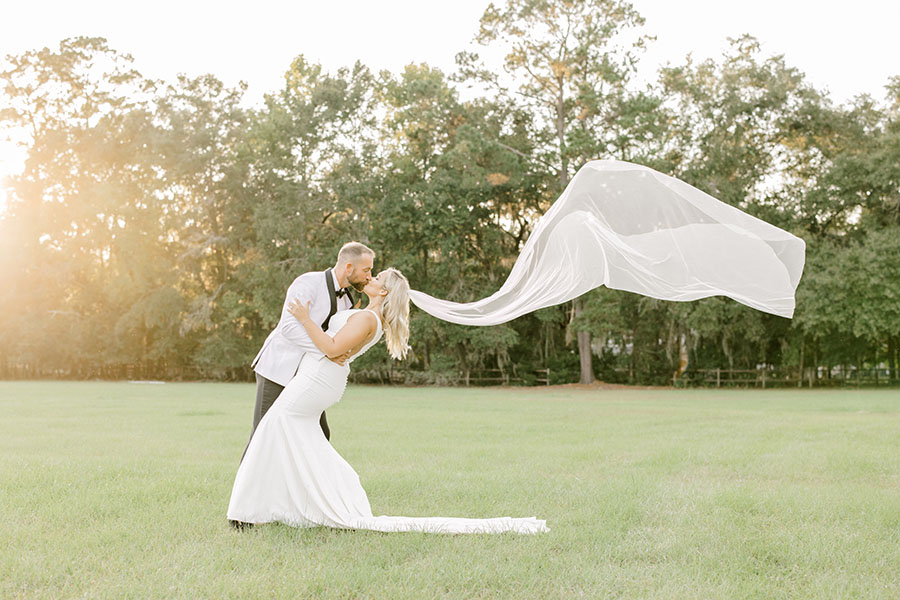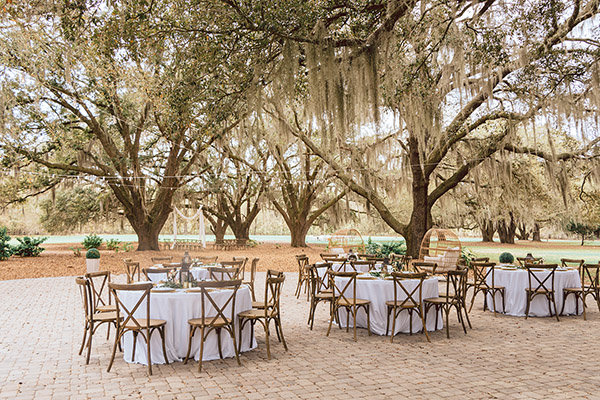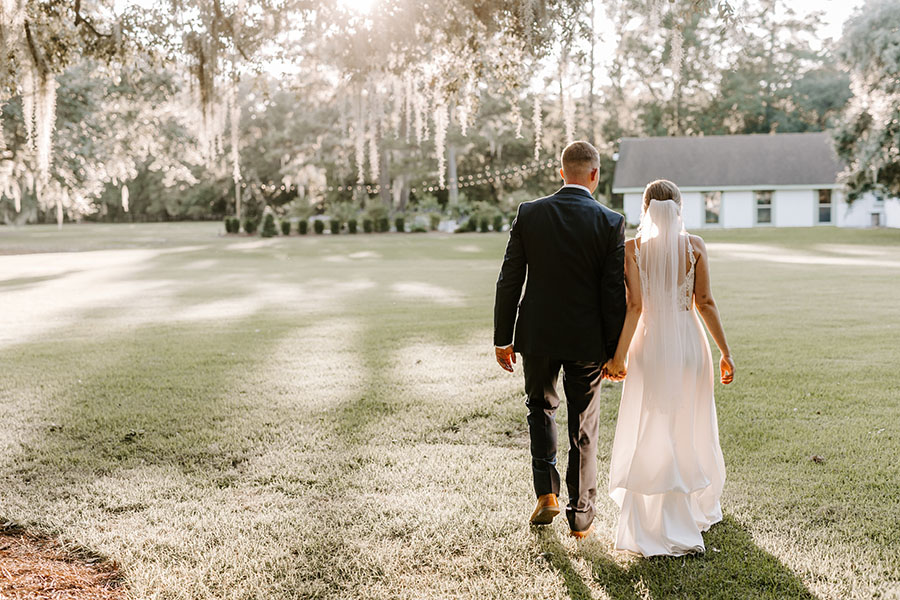 Intimate weddings for up to 75 guests. This all-inclusive package provides decor, hors d'oeuvres, and a Southern buffet for your elegant wedding under the Angel Oaks.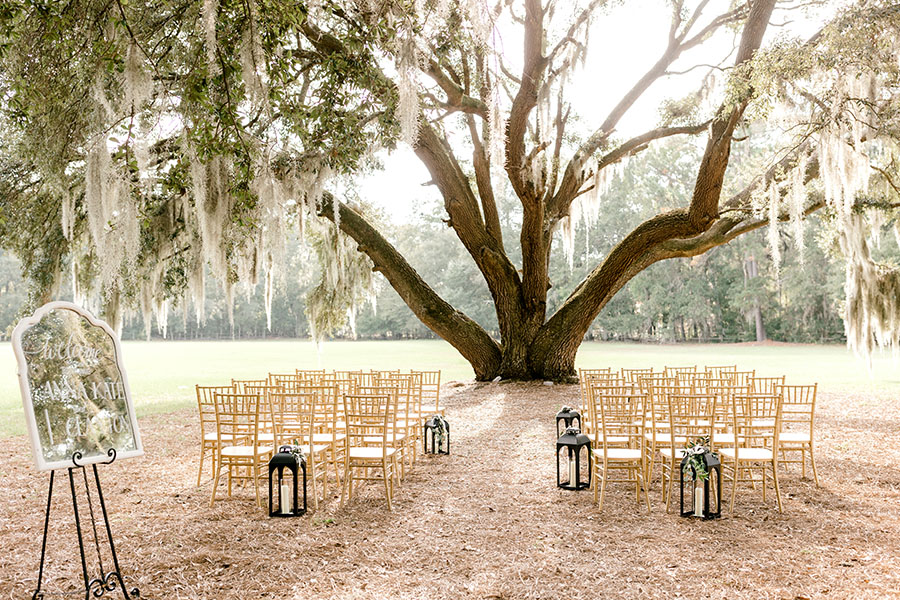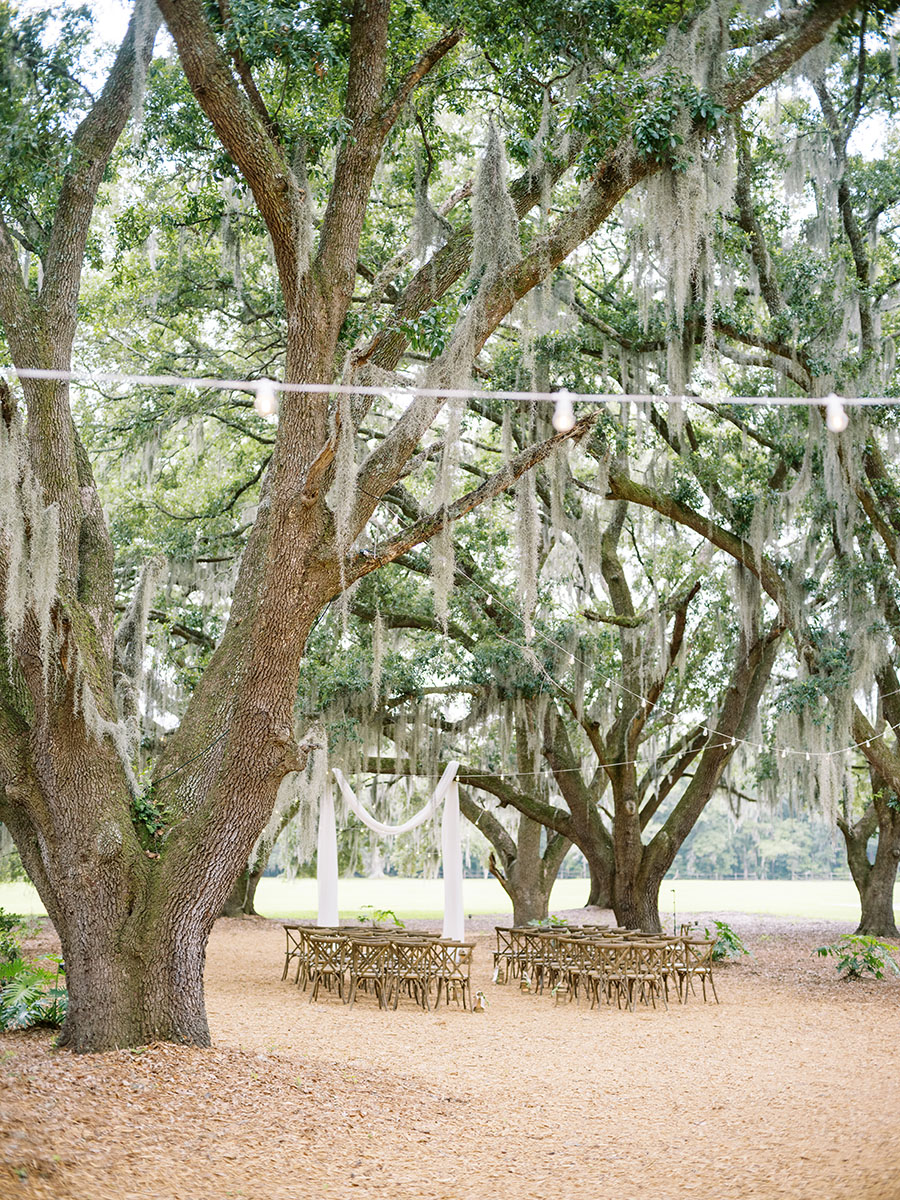 starting at $11,000 for 40 guests
additional guests $100 each
up to a total of 75 guests
22% service charge and 8% tax will be added.
Includes use of the selected ceremony, cocktail hour, and reception sites for 4 hours on your wedding day, with 8 hours use of the Huling Lounge for getting ready.
Pricing & Scheduling Details
Petite Weddings start at $11,000 with up to 40 guests included. Additional guests may be added at $100 per person, up to 75 total guests. 22% service charge and 8% tax will be added to all prices.
Available on Mondays-Thursdays only, booked up to 12 months in advance.
Select Friday and Saturday dates in January, February, July, and August can be booked up to 6 months in advance. For more info, see our FAQs
Ceremony location: Angel Oak Canopy, Promise Tree, Huling Hall and Chapel
Chairs & ceremony set up
Ceremony Coordination, including a 1-hour meeting in the month before your wedding and a 30-minute rehearsal
A certified Officiant
Custom bridal bouquet
2 Bridesmaids bouquets (to complement the bride's bouquet)
Groom's boutonniere
2 Groomsmen boutonnieres
10 Lanterns adorned with ribbon and greenery for aisle and altar
Hand-lettered welcome sign
Cocktail Hour and Reception
Cocktails may be served in Cardinal Courtyard or Riders Courtyard with the reception in Gracie Ballroom
Reception Coordination
2-tier wedding cutting cake with floral accents and petite desserts
Beer, Wine, Signature Drink, and non-alcoholic beverages
Tables and chairs
Cocktail Table Centerpieces (4 cocktail tables with greenery and petite vase with single bloom to coordinate with the bridal bouquet)
Reception Table Centerpieces (Greenery with colorful blooms in shades to coordinate with the bridal bouquet. Choose between candles in glass hurricane sleeves or lanterns, both options accented with votives.)
Table settings (choose gold or silver accents)
3 Butler-Passed Hors d'Oeuvres
Buffet dinner with your choice of two entrées, three sides, bread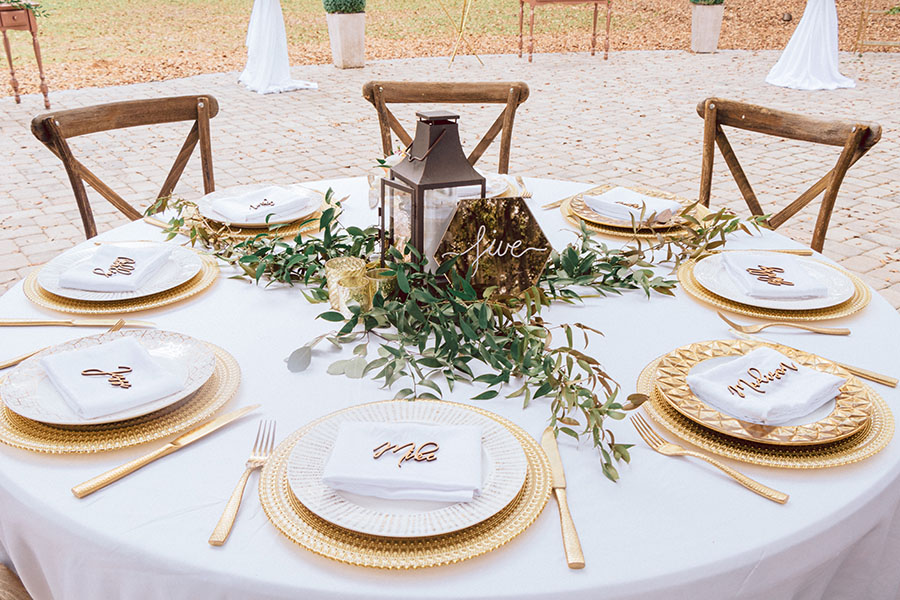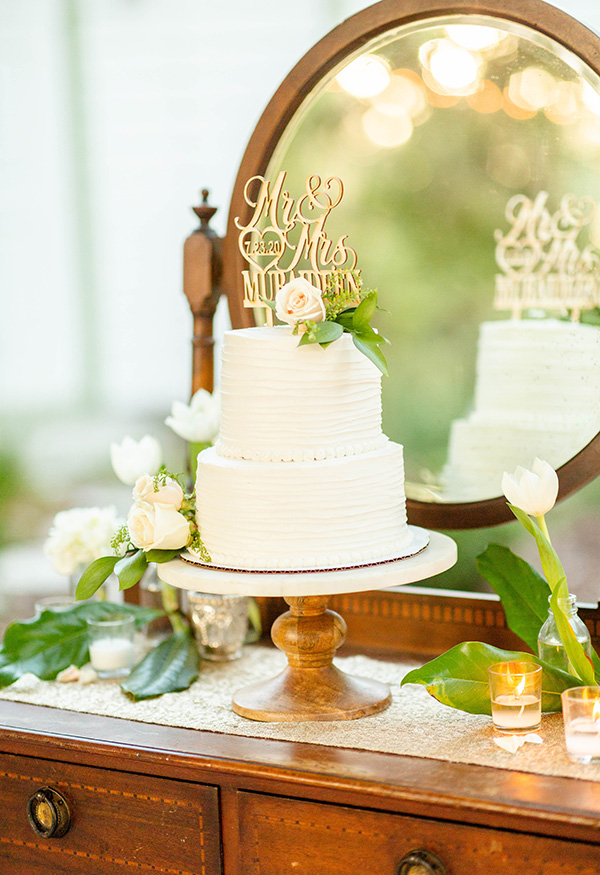 Petite Weddings Catering Menu
Your guests will enjoy world-class cuisine featuring locally sourced vegetables, fruits, meats, and cheeses from our farm partners.
Butler-Passed Hors d'Oeuvres
Choose three hors d'oeuvres for your guests to enjoy during cocktail hour. Options include elevated Southern-inspired bites, like our Fried Green Tomato Canapé, Beef Crostini with Pimiento Cheese, Fried Chicken Satay with Hewitt Honey Mustard, and more!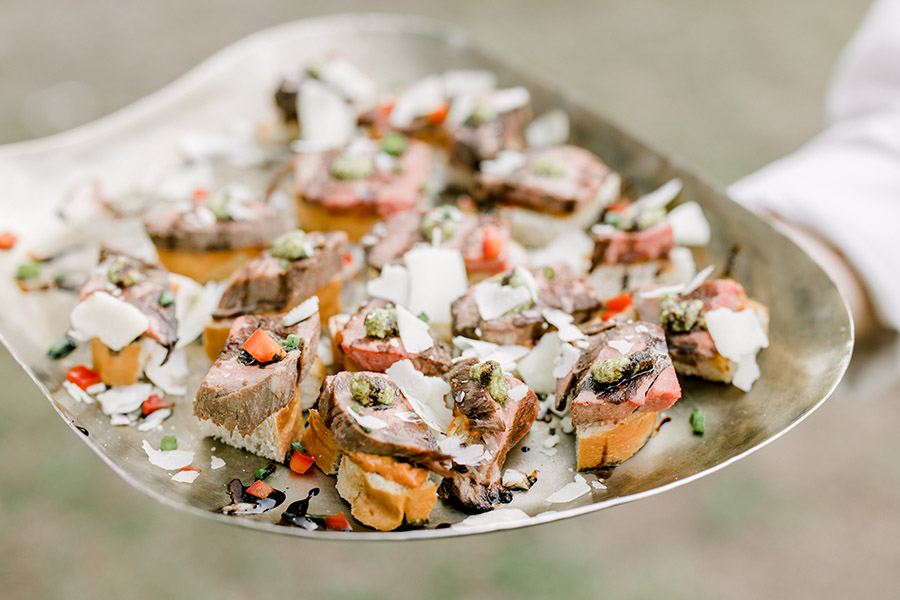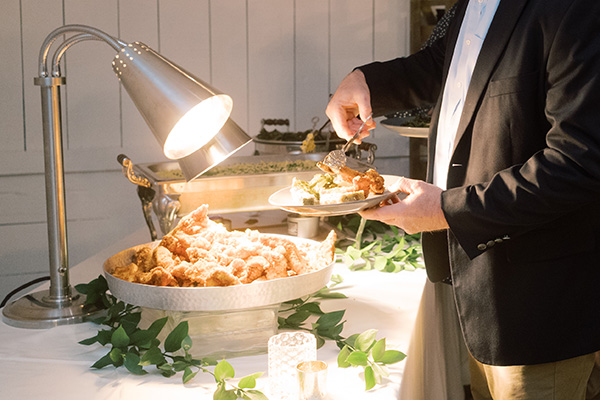 Choose two entrées, three sides, and one fresh-baked bread item for a delish buffet-style reception dinner, artfully presented with natural greens and votives. Options include Southern favorites with a gourmet twist, like our Cheerwine Roasted Porkloin or Fancy Fried Chicken.
Download our full Petite Wedding menu
Special extras to help you create the perfect Petite Wedding celebration!
In addition to all that's included with a Petite Wedding, we offer a selection of customizations to make your day truly unique! From sophisticated Garden Urns or an elegant Ceremony Arbor to a Champagne Toast and chic Reception Lounge, our designers will create a one-of-a-kind setting for your wedding day!
Download our Petite Wedding booklet with all the design options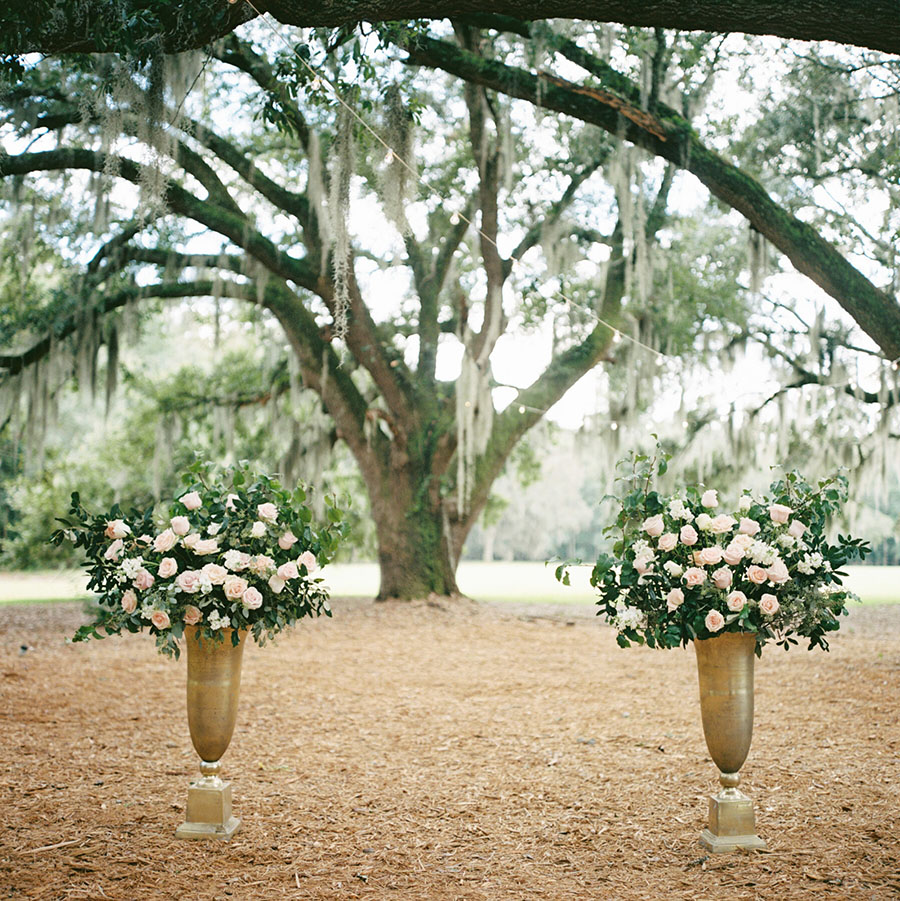 What am I able to customize?
Petite Wedding packages are designed to give you customization without the overwhelm! Choose from these options to make it your own:
Cake Flavor: Chocolate, Vanilla, or Strawberry Celebration
Cake Style: Classic Buttercream with horizontal texture and a pearl beaded border at the base of each tier or Nearly Naked.
Accent color for linens
Gold or silver flatware
Color palette for florals
Hors d'oeuvres and Buffet from the Petite Weddings Catering Menu
Do you have a sound system to use for playing music?
All indoor and outdoor locations have power supply suitable for professional sound equipment. Use of a professional DJ is required for all ceremony and reception music. Bring your own or choose our DJ add-on.
Is tax included in the prices?
8% tax and a 22% service charge that covers set up, tear down, clean up, and liability insurance will be added to the Petite Weddings package price and add-ons.
When can I book a Petite Package?
Petite weddings can only be booked on Monday-Thursday, up to a year in advance.
Select Fridays and Saturdays may be booked in January, February, July, or August, up 6 months in advance.
Exclusions: This package is not available on Fridays or Saturdays in the months of March, April, May, June, September, October, November, or December. We are closed for business on Sunday. To book a Friday or Saturday in our peak season, please consider a Simple Elegance, Lowcountry Luxury or Bespoke Wedding.
| | |
| --- | --- |
| Weekdays Mon.-Thurs. | 1 year in advance |
| Fridays in January, February, July, or August | 6 months in advance |
| Saturdays in January, February, July, or August | 90 days in advance |
| All other Fridays & Saturdays | not available |
| Sundays | not available |
All dates are subject to the minimums in the charts below. The minimum rate must be reached before service and tax are added.
| | | | |
| --- | --- | --- | --- |
| 2023 Minimums* | Saturday | Friday | Mon.-Thurs. |
| High Season (June, October, November) | $30,000++ | $20,000++ | $10,000++ |
| Mid-Season (September, December) | $25,000++ | $20,000++ | $10,000++ |
| Low Season (July, August) | $20,000++ | $10,000++ | $10,000++ |
*for bookings confirmed after March 20, 2023
| | | | |
| --- | --- | --- | --- |
| 2024 Minimums | Saturday | Friday | Mon.-Thurs. |
| High Season (April, May, June, October, November) | $50,000++ | $30,000++ | $20,000++ |
| Mid-Season (March, September, December) | $40,000++ | $25,000++ | $15,000++ |
| Low Season (January, February, July, August) | $25,000++ | $15,000++ | $10,000++ |
++ 22% service and 8% tax will be added to the total.
To check our availability, simply reach out and we will confirm which dates you qualify for based on your guest count and desired add-ons.
We're so grateful for the many talented photographers and videographers we have the privilege to work with! Thanks to them, we're able to share the beauty of Hewitt Oaks far and wide. Photos featured on this site were provided by Anna Darlak Photography, Arastasia Photography, B Logsdon Photography, Dear Elizabeth Photography, Elizabeth Lanier Photography, Madison Banks Photography, McSween Photography, Nichole Barrali Photography, Sol Photography, Southern Lens Photography, Tangible Traditions Photography and Two Chics Photography. Video is by Jones & Co.