All-Inclusive Petite Weddings
Intimate weddings in the heart of the Lowcountry near Beaufort, Hilton Head, Savannah and Charleston
Weddings at Hewitt Oaks are full of Southern charm and effortless grace, surrounded by sweeping Lowcountry oaks and peaceful countryside views. Our all-inclusive Petite Wedding Packages are specially designed for micro weddings with up to 75 guests. We'll take care of every detail so you can relax and enjoy every moment of your special day!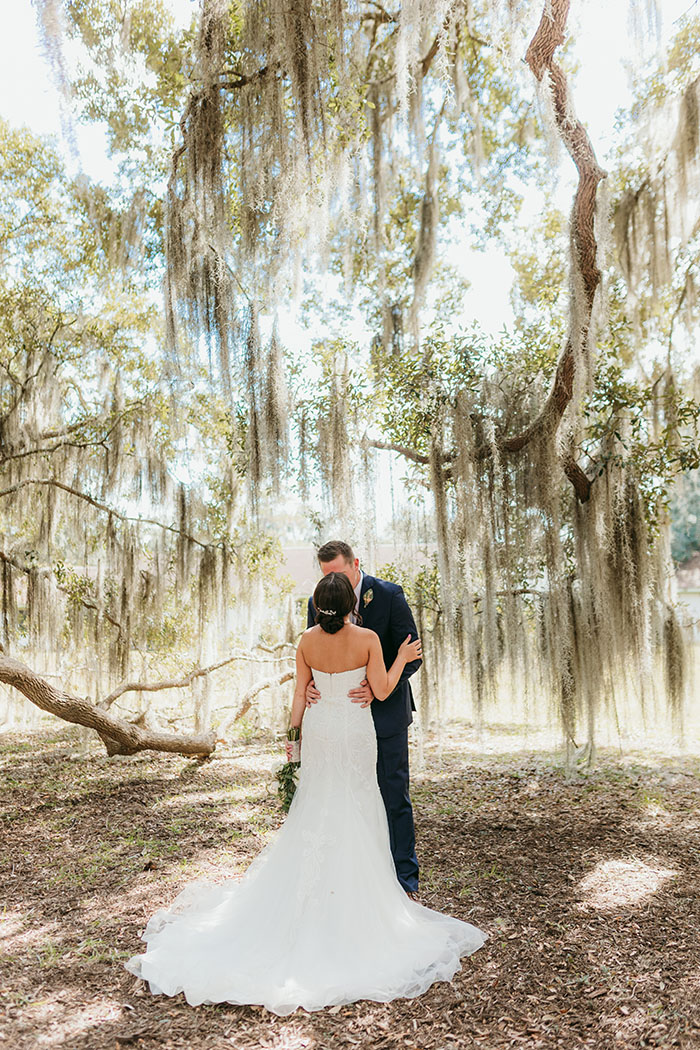 You bring the love story...we'll create your dream wedding
You want to be blown away by the beauty, meaning, and joy of your wedding. You want to remember this as one of the best days of your life. You want to be free to take it all in. What you don't want? To be stressed and distracted during your wedding and the precious days leading up to it. That's where we come in!
The experienced team at Hewitt Oaks has been designing weddings and special events for over 20 years. We've created our Petite Wedding Packages to give you a carefree planning experience with select choices to personalize your celebration. We want every Hewitt Oaks bride to be able to breathe and enjoy a seamless wedding experience from the first planning phone call to the wedding day send-off.
Experience the beauty and grandeur of Hewitt Oaks in an intimate setting
Petite Weddings at Hewitt Oaks include all the essentials for an elegant and refined wedding with a selection of our most popular decor and culinary options. Petite Weddings can be scheduled up to one year in advance for Monday-Thursday, or six months in advance for select Fridays and Saturdays in our low season (January, February, July or August). Petite Weddings are not available on Fridays or Saturdays during other months of the year. Please see our FAQs for the details.
All packages include the use of the ceremony and reception sites for the scheduled time period with access to the Huling Lounge for getting ready.
Planning, catering, and design are provided by our experienced team. Because these services are provided in-house, you get a better value and so much less stress! You can make all the fun decisions about colors and flavors without the bother of tedious details and logistics. A Petite Wedding includes:
Catering & beverage service
Cake
Florals
Furniture, linens, china, utensils, & glassware
Design & styling
Our Á La Carte Menu allows you to make the planning process even more streamlined with select add-on services. Additions or substitutions outside of the listed options are not included with our Petite Wedding Packages, but we'd be glad to provide you with a customized proposal!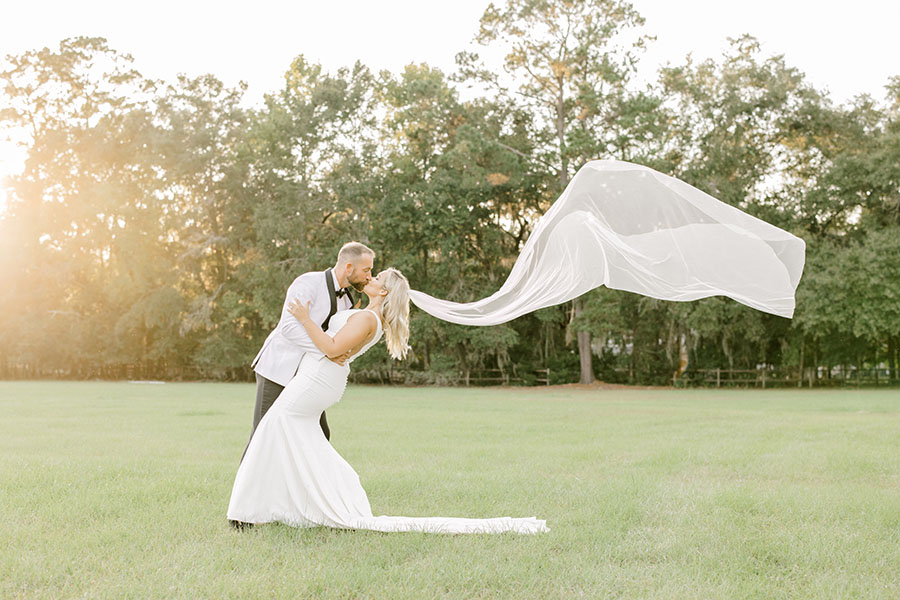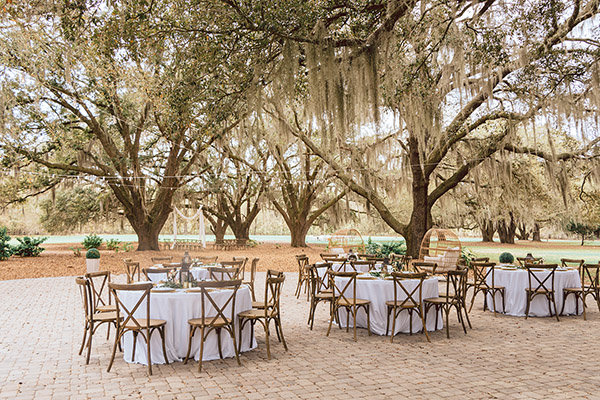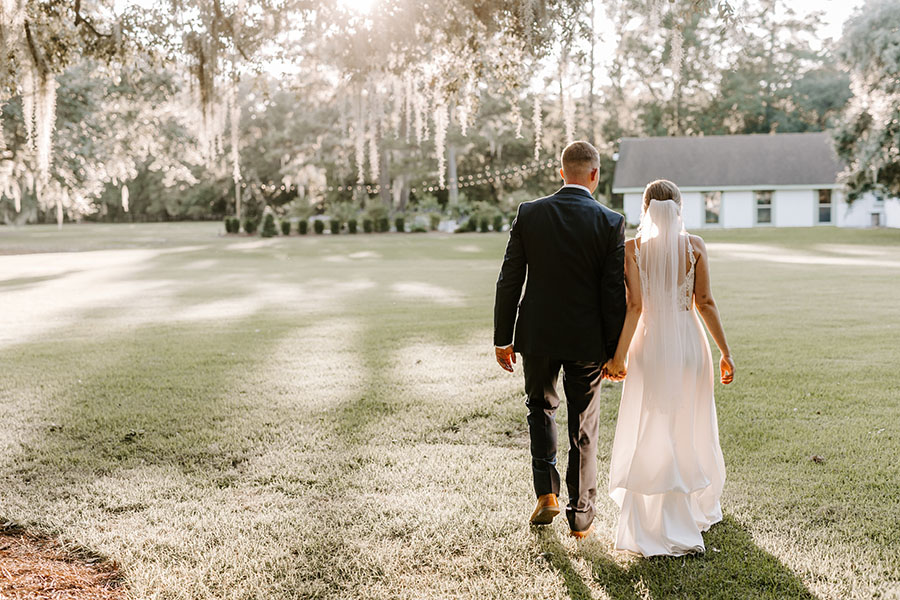 Intimate weddings for up to 75 guests. This all-inclusive package provides decor, hors d'oeuvres, and a Southern buffet for your elegant wedding under the Angel Oaks.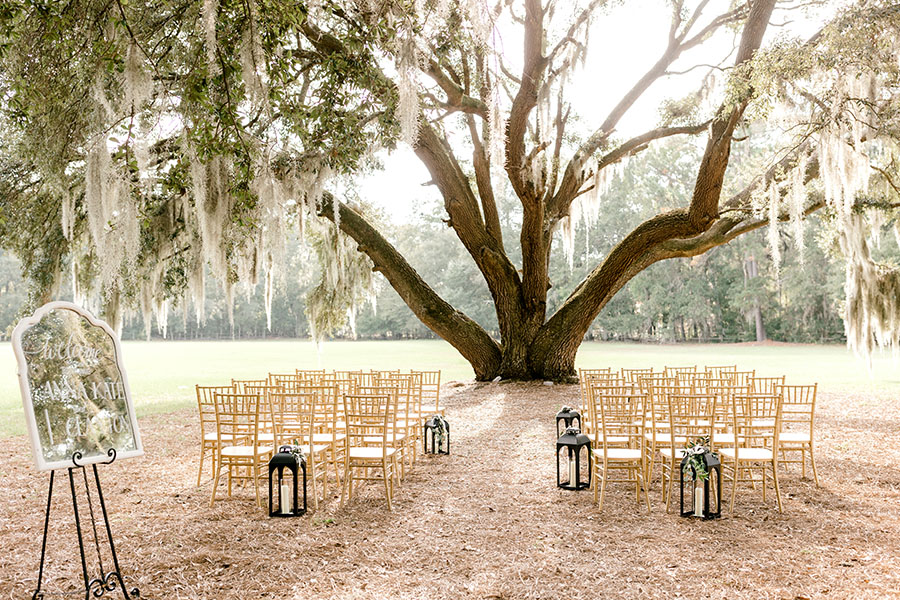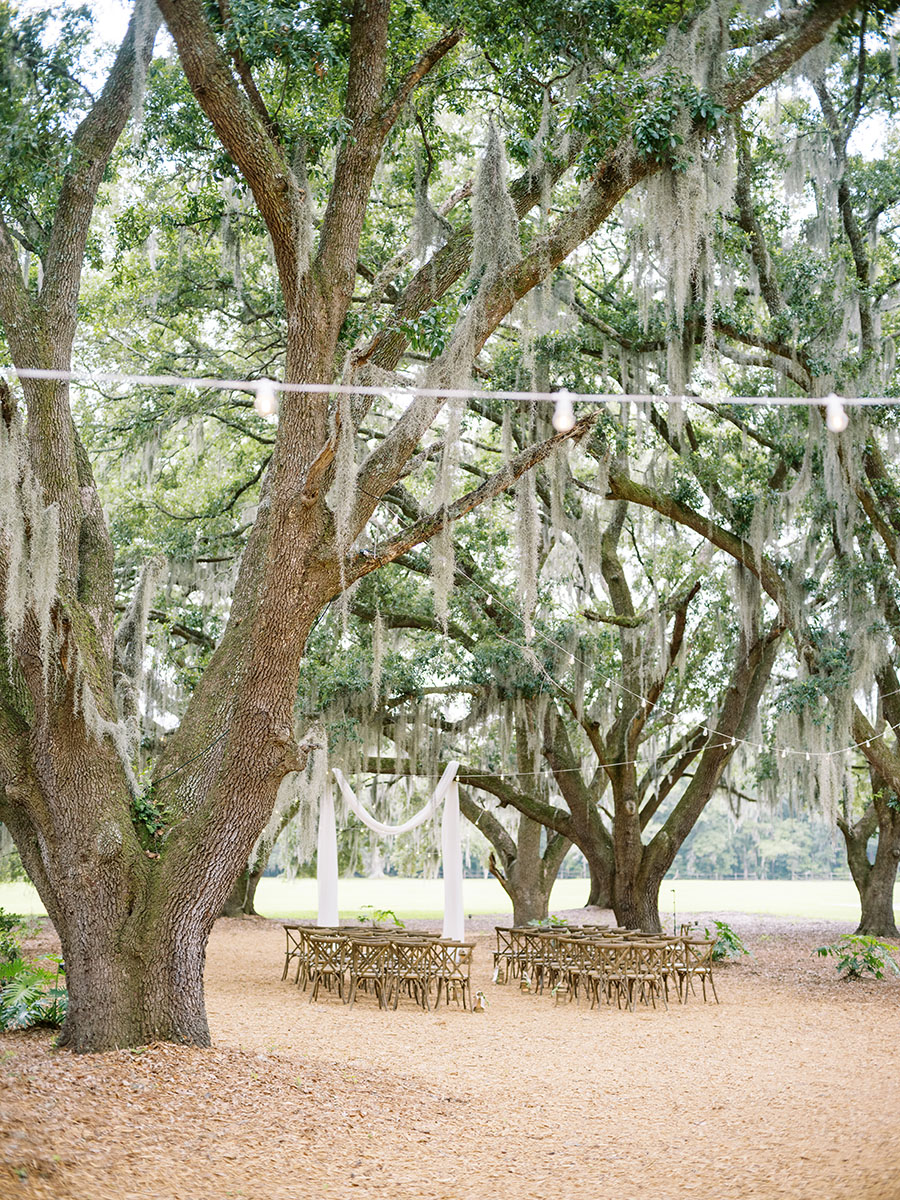 starting at $10,000 for 40 guests
additional guests $85 each
22% service charge and 8% tax will be added.
Includes use of the selected ceremony, cocktail hour, and reception sites for 4 hours on your wedding day, with 8 hours use of the Huling Lounge for getting ready.
Pricing & Scheduling Details
Petite Weddings start at $10,000 with up to 40 guests included. Additional guests may be added at $85 per person, up to 75 total guests. 22% service charge and 8% tax will be added to all prices.
Available on Mondays-Thursdays only, booked up to 12 months in advance.
Select Friday and Saturday dates in January, February, July, and August can be booked up to 6 months in advance. For more info, see our FAQs
Ceremony location: Angel Oak Canopy, Promise Tree, Cardinal Courtyard, Huling Hall and Chapel, or Riders Courtyard
Chairs & ceremony set up
Ceremony Coordination
Use of bluetooth speaker with microphone
A certified Officiant
Custom bridal bouquet
2 Bridesmaids bouquets (to complement the bride's bouquet)
Groom's boutonniere
2 Groomsmen boutonnieres
10 Lanterns adorned with ribbon and greenery for aisle and altar
Hand-lettered welcome sign
Cocktail Hour and Reception
Cocktails may be served in Cardinal Courtyard, Riders Courtyard, or the Courtyard Garden with the reception at Riders Courtyard or in Gracie Ballroom
Reception Coordination
2-tier wedding cutting cake with floral accents and petite desserts
Fruit and cheese tray
Beer, Wine, Signature Drink, and non-alcoholic beverages
Tables and chairs
Cocktail Table Centerpieces (4 cocktail tables with greenery and petite vase with single bloom to coordinate with the bridal bouquet)
Reception Table Centerpieces (Greenery with colorful blooms in shades to coordinate with the bridal bouquet. Choose between candles in glass hurricane sleeves or lanterns, both options accented with votives.)
Table settings (choose gold or silver accents)
3 Butler-Passed Hors d'Oeuvres
Buffet dinner with your choice of two entrées, three sides, bread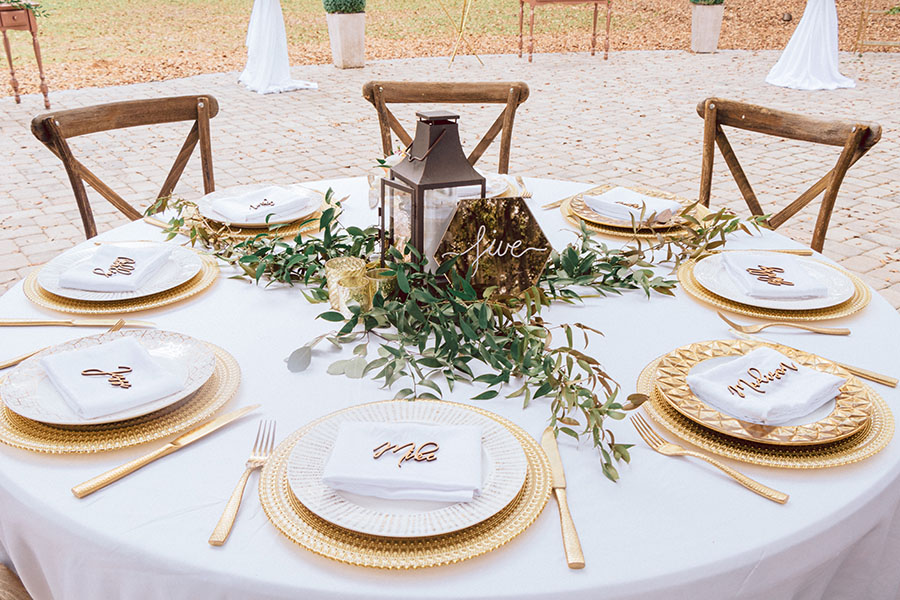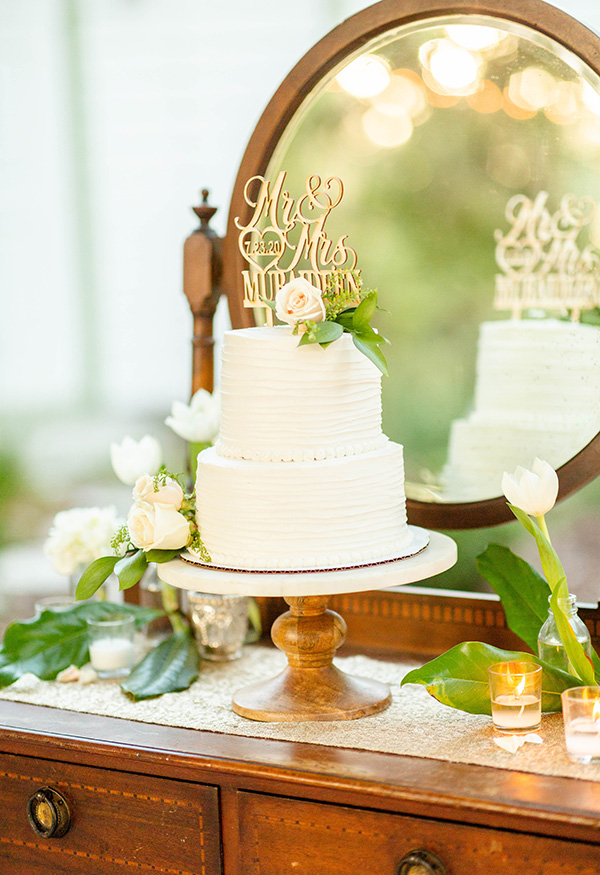 Petite Weddings Catering Menu
Your guests will enjoy world-class cuisine featuring locally sourced vegetables, fruits, meats, and cheeses from our farm partners.
Butler-Passed Hors d'Oeuvres
Choose three hors d'oeuvres for your guests to enjoy during cocktail hour.
Fried Green Tomato Canapé
finished with pimiento cheese mousse
tender beef stacked atop baguette with sundried tomato tapenade, topped with basil pesto & parmesan
georgia pecan coating, finished with a mixed berry demi

house-made cheerwine barbeque slowroasted pork
cherry tomato, fresh mozzarella, and basil pesto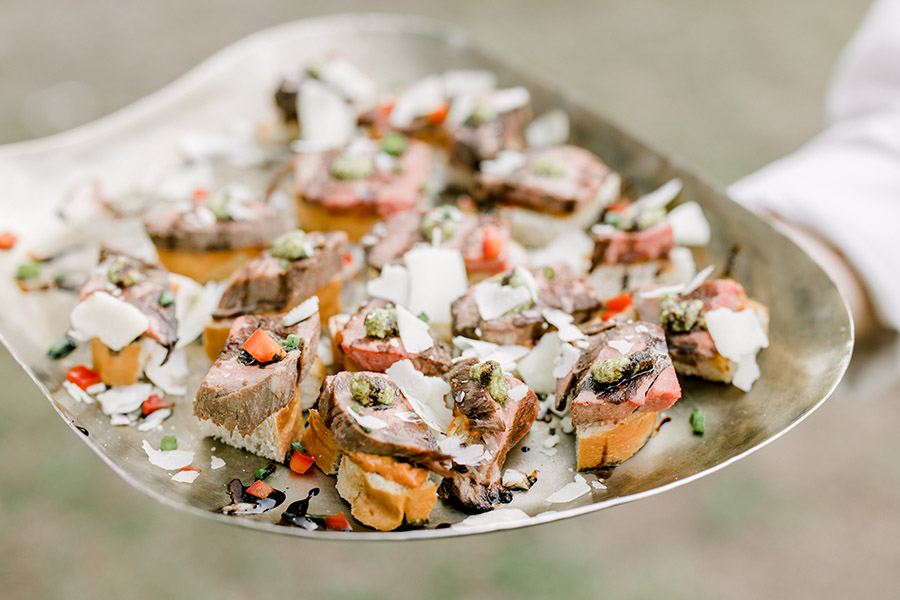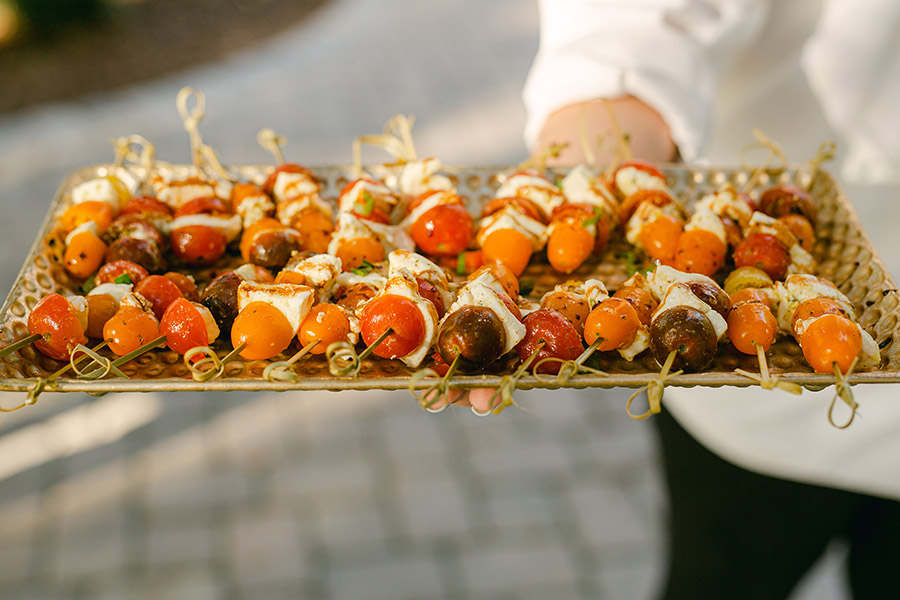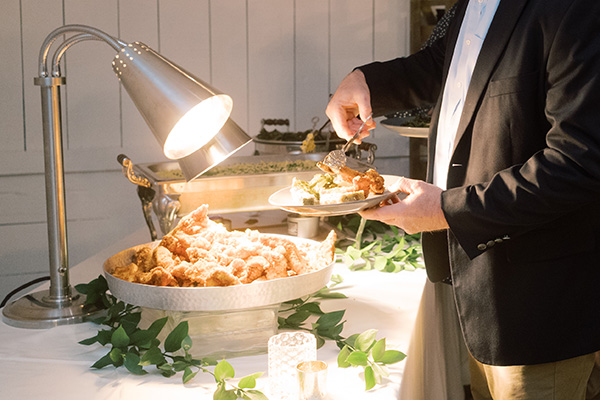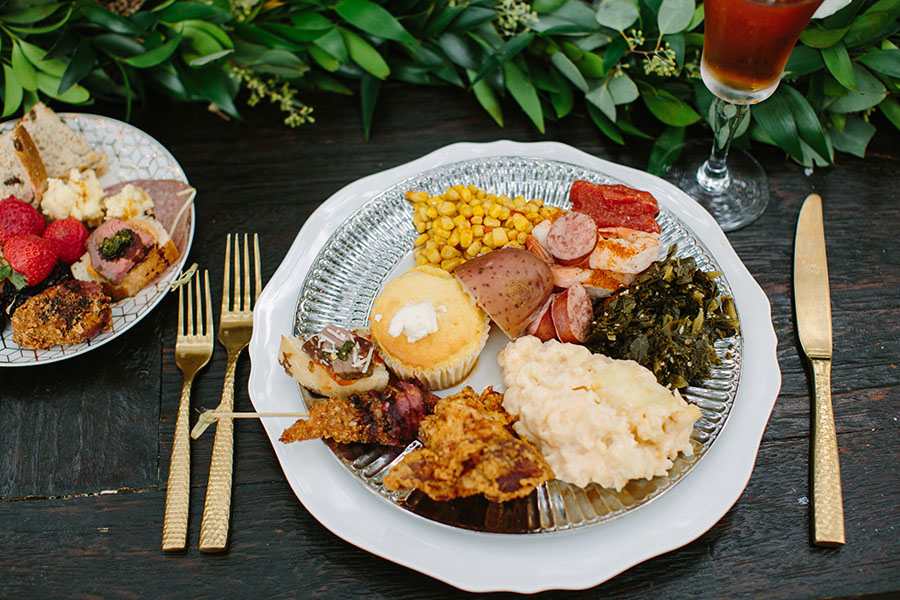 Choose two entrées for a delish buffet-style reception dinner.
Cheerwine Pulled Pork BBQ
with chef's signature barbeque sauce
Fettuccine Pasta with Chicken Alfredo Sauce
Ziti Pasta with Bolognese Sauce
Spaghetti with Primavera Sauce
local wild south carolina shrimp served alongside corn cobettes, roasted red bliss potatoes, and andouille sausage with traditional cocktail sauce and drawn butter with lemon zest
*this item counts as both an entrée and a side
Choose three sides and one bread item.
Grilled Seasonal Vegetables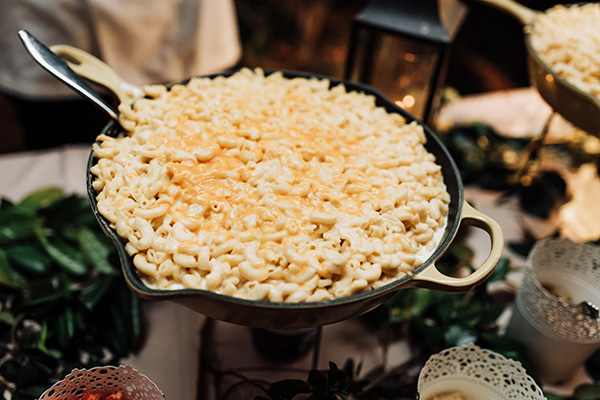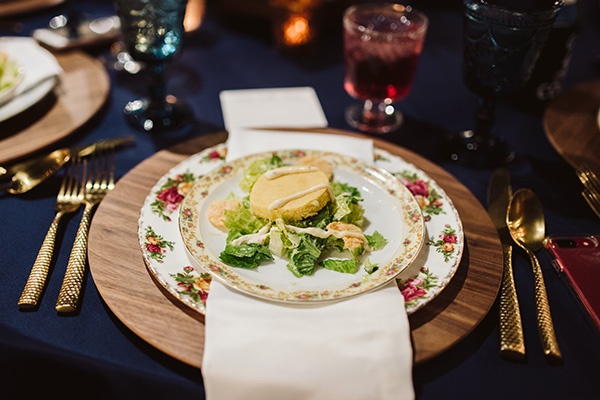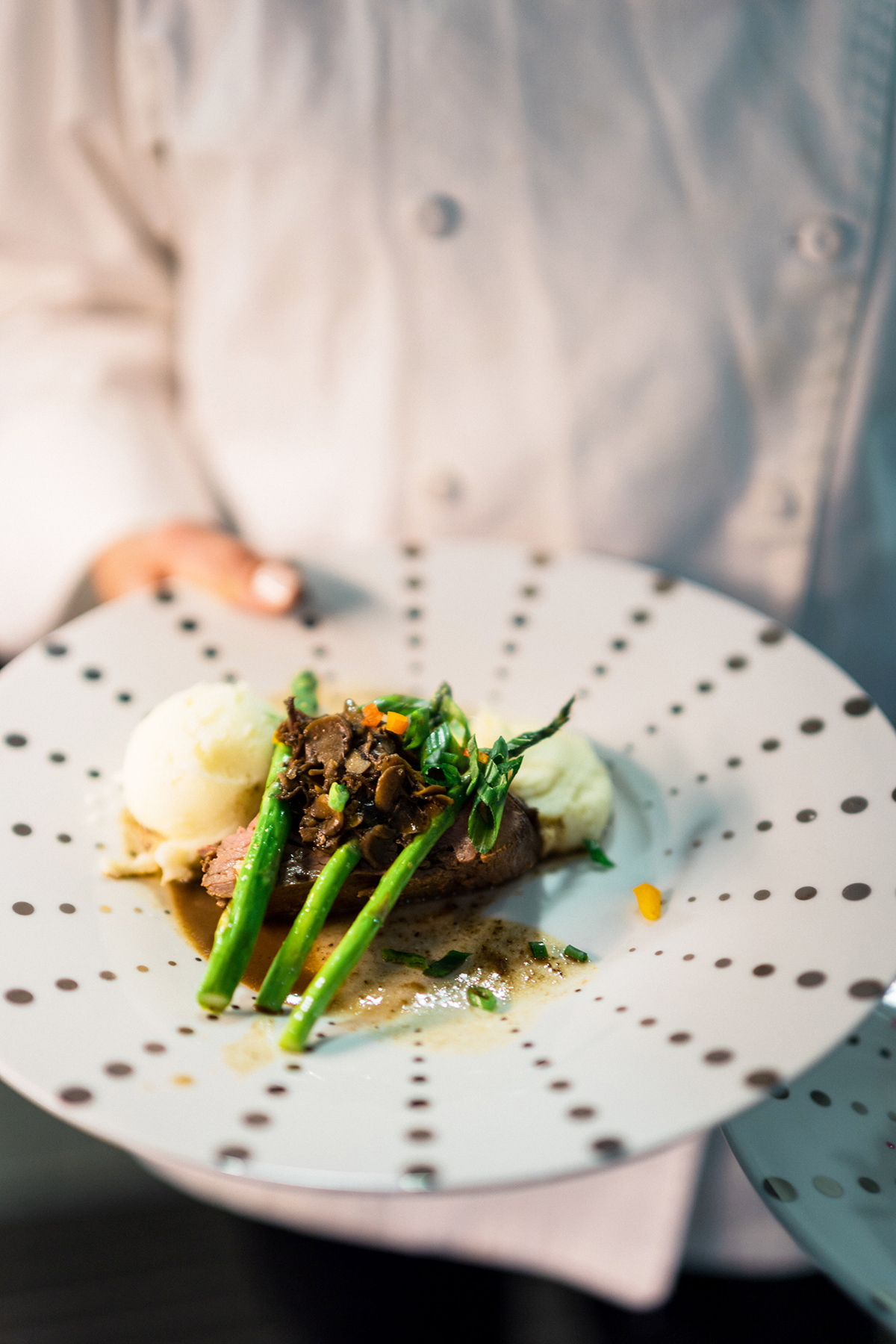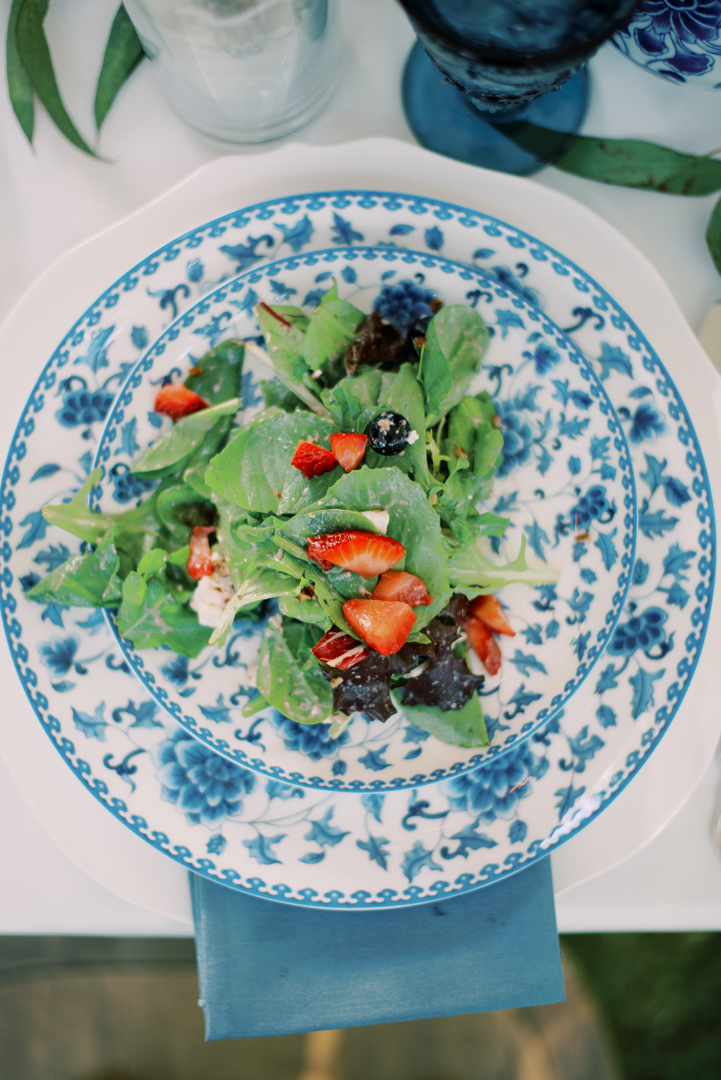 Sophisticated Plated Dinner
Upgrade your reception with an exceptional dining experience, presented with our dramatic Synchronized Service!
Opting for a Plated Dinner will replace the Buffet Dinner Entrées otherwise included with the Simple Elegance Wedding package. All guests must have the same entrée – no choices available.
Choose 1 First Course, 1 Main Course from Delectable Gourmet menu, 2 Sides, Dessert Station
Choose 1 First Course, 1 Main Course from Classic Indulgence menu, 2 sides, Dessert Station
Choose 1 First Course, Dual Entrée (1 Delectable Gourmet, 1 Classic Indulgence), 2 sides, Dessert Station
romaine, parmesan, cornbread croutons, house-made Caesar with asiago crisps
fresh spinach, Boston Bibb, & frisée lettuces, strawberries, blue cheese, candied pecans, & Champagne Vinaigrette
mixed greens tossed in our Apple Cider Vinaigrette, topped with Roasted Apples and a Pecan Encrusted Goat Cheese Fritter
Delectable Gourmet Main Course
Caramel Pecan Glazed Chicken
Bourbon Braised Pork Tenderloin
Classic Indulgence Main Course
Potato Encrusted Cod with Rosemary Sauce
Special extras to help you create the perfect petite wedding celebration!
Additions, substitutions, or menu changes outside of the listed options are not included with our Petite Wedding Packages. Our
Simple Elegance packages
offer additional options or we'd be glad to provide you with a
Luxury Wedding
proposal. 22% service and 8% tax will be added to all prices.
$1000 for 2 hours
$300 each additional hour
Pricing subject to photographer availability
Will follow Ceremony Director's cue to play the selected songs for the ceremony and special reception dances (first dance, father-daughter, etc.)
$175
Mother/Grandmother Corsage
Flower Girl Basket and Flowers
Flower Girl Halo + Basket with Flowers
Wooden Cross for the Ceremony
$299 without florals
$499 with floral accent
Criss-crossed natural greens above the Gracie Ballroom fireplace with candles on the mantel
$688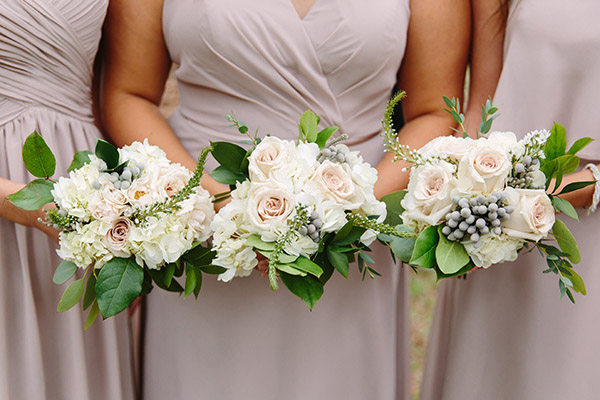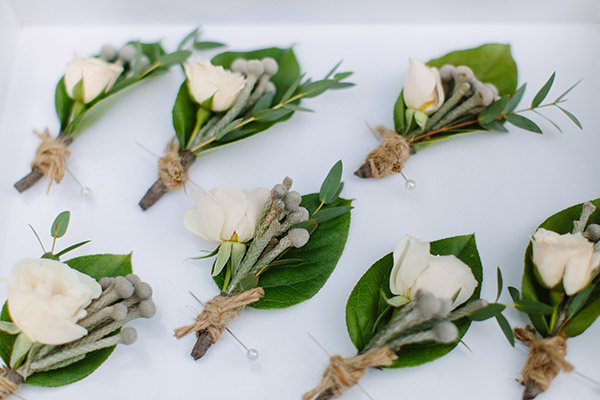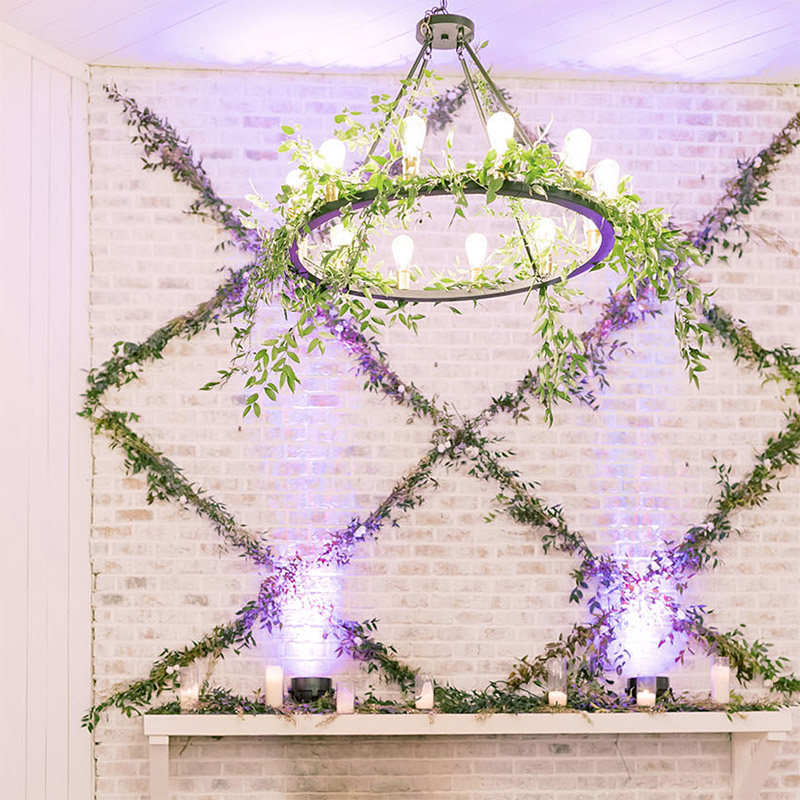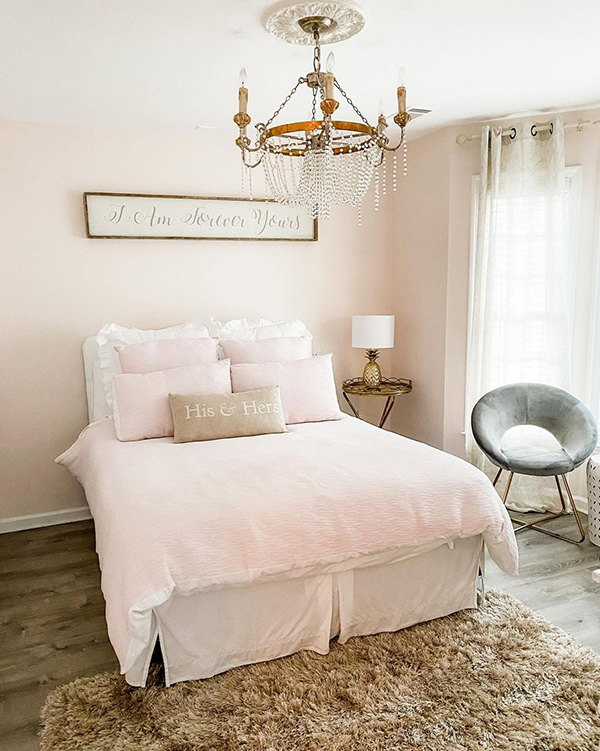 Full Bar stocked with standard spirits and mixers for classic cocktails
$10 per person
Seating area for guests to relax during Cocktail Hour
$1250 each
Use of Connaughton Cottage for 8 hours on your wedding day
$295 plus cleaning fee
Reservations can be made up to 90 days in advance.
A cozy night in Connaughton Cottage
$150 with purchase of Bridal Cottage add-on
Reservations can be made up to 90 days in advance.
22% service charge and 8% tax will be added to pricing listed above
What am I able to customize?
Petite Wedding packages are designed to give you customization without the overwhelm! Choose from these options to make it your own:
Cake Flavor: Chocolate, Vanilla, or Strawberry Celebration
Cake Style: Classic Buttercream with horizontal texture and a pearl beaded border at the base of each tier or Nearly Naked.
Accent color for linens
Gold or silver flatware
Color palette for florals
Hors d'oeuvres and Buffet from the Petite Weddings Catering Menu
To receive the special Petite Wedding Package pricing, you must choose from only the provided options and Á la Carte Services. However, if you have a different vision we'd love to bring it to life with a custom proposal!
When can I book a Petite Package?
Petite weddings can only be booked on Monday-Thursday, up to a year in advance. Select Fridays and Saturdays may be booked in January, February, July, or August, up 6 months in advance.
Exclusions: This package is not available on Fridays or Saturdays in the months of March, April, May, June, September, October, November, or December. We are closed for business on Sunday.
To book a Friday or Saturday in our peak season, please consider a
Custom Wedding
.
New Wedding Packages and Pricing are coming! Will go into effect on Thursday, December 8, 2022.
| | |
| --- | --- |
| Weekdays Mon.-Thurs. | 1 year in advance |
| Fridays in January, February, July, or August | 6 months in advance |
| All other Fridays & Saturdays | not available |
| Sundays | not available |
Is tax included in the prices?
A 22% service charge and 8% sales tax will be added to the Petite Weddings package price and add-ons.
We're so grateful for the many talented photographers and videographers we have the privilege to work with! Thanks to them, we're able to share the beauty of Hewitt Oaks far and wide. Photos featured on this site were provided by Anna Darlak Photography, Arastasia Photography, B Logsdon Photography, Dear Elizabeth Photography, Elizabeth Lanier Photography, Madison Banks Photography, McSween Photography, Nichole Barrali Photography, Sol Photography, Southern Lens Photography, Tangible Traditions Photography and Two Chics Photography. Video is by Jones & Co.